The good news is that I got an interview with a Professor of literature from St. Johns University.
Steven Mentz is a Shakespearean literature scholar. In 2010 he curated (a long with Carol Brobeck) the exhibition "Lost at Sea: The Ocean in the English Imagination, 1550–1750" which took place at the Folger Shakespeare library and explored what it meant to be at sea in that era, what tools existed and how English mariners used math and science to understand and navigate the sea. Mentz wrote many articles and a book about maritime culture and Shakespeare and therefor would be an excellent resource not only to the Sextant itself as an important instrument but to the culture around it! The post about the interview will be here.
The bad news are that the 7″ Sextant I have ordered is stuck at customs in JFK after it made a long way from india. This is a solid brass 7″ Sextant (in a nice wooden box) that is made for ornamental purposes but is fully functional. After viewing many different tutorials online and having my own military experience with the Theodolite – I cant wait to get my hands on it!
UPDATE  — It arrived! In the picture below Im trying it in the sun.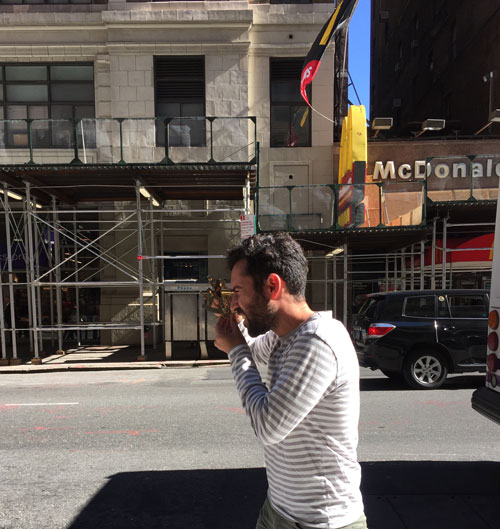 The truth is that this was not made to be actually used… All the parts do move, and I even might be able to calibrate it so the mirrors and the telescope are aiming to the right direction, and that the shaders could actually cover the reflection of the sun and protect my eyes, but its clearly more of a ornamental object rather then a thing to take in sea…
This brings me to an interesting thought of why people are drawn to antique items (whether functional or not). Not being a part of their own memory but a part of a global, common one. I recently visited the holocaust museum in DC and one of the most emotional moments for me was seeing (and touching) the real sleeping banks of the prisoners. Through that I was able to emotionally relate to the horror that happened before I was even born. Do objects have the ability of sending us to their past? Is it the shape or maybe the color or maybe the smell? How about replicated objects?